First Avenue to buy and take over Turf Club
9:14 AM
After a number of years of close partnership, with several shows a month being booked and promoted by the legendary Minneapolis club, the owners of First Avenue have come to an agreement and the Turf Club will be under their management as of October 15th. The long-time St. Paul music staple hosting acts of all sorts, and voted "Best Country Music Venue" by City Pages, will see upgrades but keep the club's vibe.
Let us hear your thoughts... Is this a good thing for the Turf? What do you think?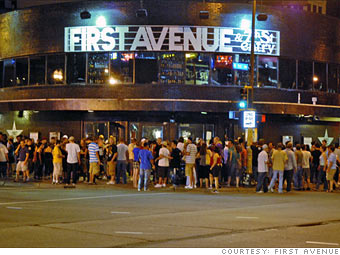 Here is First Avenue's official release:
First Avenue is excited to announce we have entered into a purchase agreement with the Turf Club and will take over as acting managers of the St. Paul, MN venue on October 15, 2013.
As a venue with our own rich and distinct history, we recognize the importance of embracing and maintaining what makes the Turf Club a gem of the Twin Cities. While we plan to keep the charm of the club, we will also be investing significantly in improvements to the venue. And don't worry; we love the Clown Lounge as much as you do - it's not going anywhere.
"I'm really excited to see the next era of the Turf Club with the team coming in from First Avenue. While I am looking forward to some new investment, I'm confident it will carry on the tradition of the Saint Paul Music Club started by Rob and Leah Rule that made it such a treasure" said St. Paul Mayor Chris Coleman.
"After eight years of owning and operating this club I wouldn't just hand it off to any buyers. I've worked closely with First Ave over the years and have seen firsthand what they're capable of," said current Turf Club owner, Tom Scanlon. "I haven't flinched in entrusting the club to First Avenue and I'm excited to see its continued success. "
Building on our 13 years of successful booking and promoting of shows at the Turf Club, we're excited to continue to bring emerging national bands and favorite local acts to St. Paul. "Whether promoting or enjoying a show, I have spent countless nights at the Turf Club and could not be more excited about this new venture," said Nate Kranz, General Manager of First Avenue.