Gramatik gives us 22 tracks to tide us over.
1:30 PM
As we wait (impatiently) for Gramatik's forthcoming album, The Age of Reason (slated for a fall release), he gives us 22 tracks to get us through. "Street Bangerz 4" is a collection of tracks left on the cutting room floor from the previous SB albums. Full of beats reminiscent of his earlier work, with a simpler more down-tempo flavor. I dig...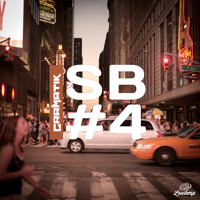 Stream or download SB4 -
HERE
.
Official Press Release:
As Gramatik prepares for the second part of his upcoming Age Of Reason Tour, he unleashed the album's second single, "
You Don't Understand
" and announced an additional Halloween show teaming up with GRiZ to play the biggest GrizMatik show to date at the 1st Bank Center in Broomfield, Colorado. The Massacre Begins

will feature support by turntablist

A-Trak

along with guitarist

Don Daro of Exmag

, who will also be joining Gramatik on tour this fall. General tickets for The Massacre Begins

are now on sale

.
In hype of the forthcoming album, Gramatik explains how he differs from the vast majority of electronic musicians as he records using live instruments while striving to make dance music that tells a story. During a recent interview with Relix Magazine, he states, "There's a lot of guitar, bass, piano, all types of organs, lots of original vocals - more than any other record I've ever produced. [The Age of Reason] combines all the genres I've been producing since the beginning in the most drastic, neurotic, cohesive and outrageous way imaginable."
See below for Gramatik's upcoming fall tour dates on the
Age of Reason Tour
and check out his remaining festival dates including New York City's Electric Zoo and America's first Tomorrowland festival, TomorrowWorld.
REMAINING FESTIVAL DATES:
Aug 30 | Electric Zoo Music Festival - NYC, NY
Aug 31 | North Coast Music Festival - Chicago, IL
Sept 07 | Hyperion Music Festival - Spencer, IN
Sept 14 | Dancefestopia Music Festival - Kansas City, MO
Sept 28 | TomorrowWorld - Atlanta, GA
AGE OF REASON FALL 2013 TOUR DATES:
Sept 04 | Town Ballroom - Buffalo, NY
Sept 05 | Rex Theatre - Pittsburgh, PA
Sept 06 | The Intersection - Grand Rapids, MI
Sept 10 Headliners Music Hall - Louisville, KY
Spet 12 | Wooly's - Des Moines, IA
Sept 13 | Skyway Theatre, Minneapolis, MN
Sept 15 | George's Majestic Lounge - Fayetteville, AR
Sept 18 | Lryic Theatre - Oxford, MS
Sept 19 | Republic New Orleans - New Orleans, LA
Sept 20 | Soul Kitchen - Moblie, AL
Sept 21 | House of Blues Orlando - Lake Buena Vista, FL
Sept 22 | Grand Central - Miami, FL
Sept 25 | The Ritz Ybor - Tampa, FL
Sept 26 | Free Bird Live - Jacksonville Beach, FL
Sept 27 | The Music Farm - Charleston, SC
Oct 01 | Ziggy's By The Sea - Wilmington, NC
Oct 02 | Jefferson Theatre _ Charlottesville, VA
Oct 03 | The National - Richmond, VA
Oct 04 | Rams Head Live - Baltimore, MD
Oct 05 | Trocadero - Philadelphia, PA
Oct 06 | Upstate Concert Hall - Clifton Park, NY
Nov 05 | Orpheum Theater - Flagstaff, AZ
Nov 06 | Railto Theatre - Tucson, AZ
Nov 07 | House of Blues - San Diego, CA
Nov 08 | The Wiltern - Los Angeles, CA
Nov 09 | The Fillmore - San Francisco, CA
Nov 10 | Knitting Factory Concert House - Reno, NV
Nov 13 | Arcata Theatre - Arcata, CA
Nov 14 | Roseland Theatre - Portland, OR
Nov 15 | Showbox at the Market - Seattle, WA
Nov 16 | Commodore Ballroom - Vancouver, BC
Nov 17 | Knitting Factory Concert House - Spokane, WA
Nov 19 | Knitting Factory Concert House - Boise, ID
Nov 22 | Orpheum Theatre - Madison, WI
Nov 23 | Royal Oak Music Theatre - Royal Oak, MI